Special events at camp can be great additions to your program. A special event is a camp-wide activity that can last for an hour or a full day. Events can take place any time of the day and any day of the week.
While a poorly planned special event can be an embarrassing thing for a program director, a well-planned and executed special event can be an enjoyable and memorable part of the summer camp experience.
Here is a list of 101 special events you can run at camp. Some have links to additional resources.
Games and Sports
Bingo
Bingo is always a hit. However, there are a number of ways to spice up your Bingo game. Here are a few ideas.
(Original) Camp Wide Game
Creating your own camp-wide game can be a challenging, yet fun and exciting, process.
Camper Triathlon
Do you have mountain biking as an activity? Does your camp have a pool or located on a lake? If yes, then you can easily hold a triathlon event. No access to bikes or a body of water? Improvise. Instead of mountain or road bikes, how about tricycles, Big Wheels or skateboards? Instead of swimming in a pool, how about a foot race where participants wear goggles, a swim cap, snorkel and fins?
Capture the Flag (and all the variations of it)
Capture the Flag is a staple of summer camp, but there are a lot of ways to change it up, from theming (pirate flags) to adding additional rules (prisoners that answer a trivia question correctly earn their freedom).
Color War
Color Wars can last a day or a week. Unfamiliar with what a Color War is, take a look at this video. Want ideas on how to run one, check out my PDF ebook.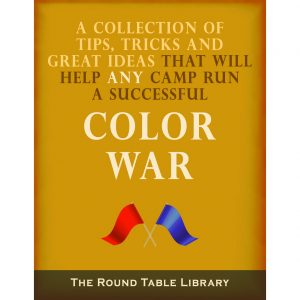 Color Run
A color run is a fun run where participants wearing white t-shirts are doused with a variety of colored powder from head to toe by staff as they run/walk by, creating different color combinations on their shirts (and faces). Add music and food and you have yourself a party.
Dutch Auction
This is a popular event at summer camps. While many camps seem to run Dutch Auctions differently, here is my take.
Gold Rush
There's gold in them thar hills. Here's a rundown of the popular camp-wide game, Gold Rush
Laser Tag
Rent some laser tag gear for your staff and campers and have a team battle.
Life-Size Board Games
Create a life-sized version of a popular board game like Battleship or Candy Land, or bring a board game to life like Clue.
Obstacle Course
Put together an epic obstacle course. Here are some ideas.
Olympics
An Olympics event at camp will usually multiple teams based on countries (real or fictional). The competitions should be based on actual Olympic events with some classic group games, some non-athletic competitions, and maybe some all camp games thrown in the mix. Winners should be individually recognized as well as earning points for their "country", or team. Want to use some fun, wacky relays and games? Put together a "Crazy Olympics". How about keeping things wet and wild? Run a "Water Olympics".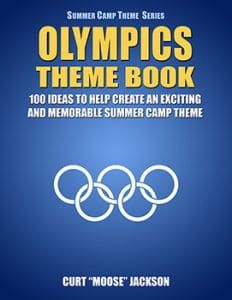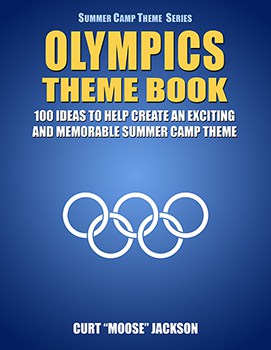 Organized Mass Chaos
OMC is a camp-wide game where everyone completes individual tasks for points. All the tasks are different, so on a large field it looks like organized mass chaos.
Relay Races
Hold an event full of all sorts of relay races.
Staff vs Campers Competition
Pit staff against campers in a variety of competitions and challenges. Trivia contests can level the playing field easily depending on the questions. A dodgeball game with the oldest campers is always a win. There are plenty of competitions and challenges that can be done where campers have a chance to beat the staff.
Team Puzzle Races
Set up three or four paths of puzzles. Each one leading to the next. The team that gets through all their puzzles first, wins.
The Rainbow Game
Staff are dressed in various colors of the rainbow and hide within specific boundaries. Cabin groups are given a list of the colors (and the order in which they need to find them – optional). Groups race to find the colors. As the groups find the correct staff, the campers will receive a mark of that color on their arm using a face paint stick. The goal is to be the first group to make their rainbow and return to the start.
Top Shot
There are many types of (team or individual) competitions you can do with archery or any target activity. Set-up a series of challenges and let campers rack up points to see who are the Top Shots.
Tournaments
Dodgeball Tournament
Hold tournaments in specific age brackets. Most people really enjoy Dodgeball. Hold an exhibition game at the end with CITs or the oldest campers vs Counselors.
Hot Wheels Tournament
Have each group or camper choose their favorite Hot Wheels vehicle during a line-up. Then hold a tournament to see which vehicle is the fastest. Check this video out.
Kickball Tournament
This school yard game is a classic and is perfect for a tournament.
Marble Race Tournament
Using a man-made track in the dirt or a plastic marble run, race different marbles to see which is the fastest. Have campers choose their favorites. Here are a couple of videos.
Pillow Fight Tournament
If you haven't seen the Japanese phenomenon of competitive team pillow fighting, check this out.
Visual and Performing Arts
Arts and Crafts Showcase
Hold a showcase where your campers can show-off their arts and crafts projects. This is a great event for camps that give their campers the opportunity to work on projects throughout the session.
Camper Talent Show
An oldie but goodie. Campers can show off their talents as a group or as an individual. From dance routines to stand-up comedy, there are plenty of acts campers can prepare.
Counselor Talent Show
A staff-only talent show is always popular…as long as the staff have buy-in and prepare a good show.
Dancing with the All-Stars
At dinner Wednesday night we put counselors names on slips of paper, male names in one cup and the female names in another. Then we announced the first ever Dancing with the All-Stars. The names would be randomly drawn by campers that night at dinner and paired up. Counselors would have until Friday night to come up with alter-egos and dances to "wow" the judges and the audience. The judge's scores would then select the top 3 and the audience would pick the winner from the top 3. (submitted by Kaylahree Mayfield)
Lip Sync Battle
Groups or pairs choose their favorite (clean) songs and perform (after some practice) their lip-sync presentation.
Playhouse Rock!
In this event, campers will get exposure to a variety of stage and acting skills. You can include workshops on puppet making, puppet performing, acting, improv, script/skit writing, stage decoration, directing, stage fighting, how to mime, how to be a circus clown, performing magic and/or stand-up comedy.
Tall Tales / Storytellers Showcase (SEaF)
Gather your best storytellers. You could also bring in storytellers from outside of camp. Allow each of them to bring characters to life as they spin their tales for the whole camp. Some storytellers may even want to have others act out the story as they tell it.
YouTube Video Showcase
Camper groups come up with an idea for a YouTube video. After scripting it out and finding the right location, they film it and help with the editing. When all videos are complete, the camp gets together and watches them all.
Pop Culture
A Galaxy Far, Far Away
Jedi need to be trained to defeat evil. Set-up a training event complete with challenges, games and friendly competition. Need some Star Wars camp ideas?
Amazing Race
An Amazing Race at camp can be an epic and memorable event. Teams race from one "country" to the next participating in challenges. Not sure how to plan an Amazing Race? I got you covered.
Game Shows
Game shows are an absolute blast to run. Done right, campers will beg to be a contestant. Here's how to run Let's Make a Deal. Need more ideas and help? Here are 8 more game shows you can run.
Harry Potter's Birthday
Harry Potter's birthday is July 31. You can find loads of ideas on this site for a Harry Potter event. Start with my first HP post.
Mad Hatter's Tea Party
Here's an event that can be wacky and fun. Check here for a bunch of neat ideas.
Minute to Win It Challenges
MtWI challenges are very popular with youth groups and camps. You can find a lot of videos on YouTube for ideas. My favorite way to run these are head to head instead of by time. Basically, a player from one team goes against a player from the other team. First to complete the challenge gets the points.
Geek-a-Palooza
Throw in activities from Star Wars, Star Trek, comic books, role-playing games, video games, anime and manga, and you have yourself a nerdfest. Most of us have a nerdy side, so this event will be a blast.
Quidditch
While Quidditch can be part of a Harry Potter celebration, it can also stand on its own as an event, either tournament-style or staff vs staff. Watch out for that bludger.
Survivor
Based on the reality show Survivor, multiple teams compete in a variety of challenges. After each challenge, campers get to vote off one of the other team's counselors. The team that won the previous challenge is safe, however. You can also run this as a staff only program running the entire summer. The campers still get to vote off a counselor after each competition. The last counselor standing at the end of summer wins a prize.
Video Games to Life
Bring video games to life. Hold a Mario Kart race. Build an Angry Birds range. Have a Fortnite dance-off. Play Pac-Man tag. Battle your Pokemon. With some imagination, you can come up with all sorts of games to create based on the hundreds of thousands of video games in existence.
Water Related
Cardboard Boat Races
Campers race cardboard boats either in a lake or in the pool. Provide each group with one large freezer box, extra cardboard, duct tape, three garbage bags and markers. Give each cabin a certain amount of time (30 minutes or so) to build their boat. Then have a race to see whose boat will make it out to a certain location and back. You can award the best-decorated boat, the boat that was the fastest, most original, etc. Need a little more info?
Dive-In Movie
Host a night swim at the pool, and show a movie like Finding Nemo on a large blow-up screen so that campers and staff both in and out of the pool can watch. If you don't have a blow up screen, try draping a large white sheet over a fence or against the side of a building. Ice cream sundaes could also be offered. (submitted by Becky Siok)
Fishing and Fun
Gather around a lake and give everyone a chance to fish. Show groups how to cast if using real poles. Have a fly fishing demonstration. Make lures. Take turns going out on a boat. Offer carnival-style fishing games down at the lake. Don't have a lake? You can still have a Fish and Fun event with indoor fishing games. Here are some good ones. Here are a few more.
Polar Bear Swim
If you have a body of water that is chilly, this is perfect. Wake up early (6am) and go to the pool or lake. Those that actually jump in the water get something special. If doing this at a pool you can add a little excitement by putting breakfast in the water to be retrieved. Food can be placed in airtight containers or baggies and sunk to the bottom. Beverages can be placed around the pool.
Pool Party
Decorations, food, music, games and general swimming are all part of a good pool party.
Rubber Duck Race
Each camper is assigned a number. Matching numbers are written on the rubber duckies in waterproof ink. The duckies are dumped into a river or stream. First, three ducks to cross the finish line are the winners. You can have the campers keep their ducks if you want.
Wacky Swim Meet
Hold a swim meet, but instead of butterfly stroke or backstroke races, hold odd competitions and games like retrieving diving rings with feet only, getting a greased watermelon out of the pool first, a game of sharks and minnows in the pool, a cruise ship race where each player places a plastic army man on their stomach and must get to the other side of the pool without the army man falling off, etc.
Water Carnival
This is similar to a Carnival, but the games are more water-oriented (throw a sponge and hit a counselor, dunk tank, etc.) and the prizes are popsicle sticks. Campers can then exchange their popsicle sticks for buckets of water they can dump on anyone in the playing area. We keep the pool open and have slip n slide kickball nearby for those who don't enjoy the carnival. (submitted by Allison Vining)
Celebrations / Festivals
Awards Banquet
Roll out the red carpet and gather the paparazzi, this event is going to be one to remember. Awards are given out for anything and everything, and they are both humorous and serious.
Cowpoke Festival
Have a day of wild west fun, with a BBQ, some line dancing, make and ride around on pool noodle horses, set-up a jail cell and have the sheriff enforce silly rules, pan for gold, have some bandits steal the gold, then put together a posse, etc.
International Festival
Celebrate different cultures by playing music from around the world, offering international cuisine, decorating areas to represent different nations, playing games and making crafts from other cultures. Check here for ideas.
Luau
Here is an event to have at the pool or waterfront. Offer fruit smoothies, grilled fruit, chicken kababs. Make leis. Play island music. Attire is Hawaiian shirts and dresses. Play some limbo.
Old Timer's Club
When a camper has completed their third year at camp, they may come to the ceremony, along with the fourth, fifth and sixth-year campers. The seventh-year campers become the "Old Timers" and are honored their seventh year with a chance to speak to the group with their memories of camp through the years. Wooden plaques honoring each year are given and a special gift is given to all Old Timers each summer (like a pair of shorts that says on the back "Behind Camp for a long time" or a special mug). The ceremony is done in the closed Dining Hall in the evening in front of the fireplace. Candles can be lit representing each year for added atmosphere. The ceremony concludes with the signing of the Old Timer's Plaque on the wall and then an Ice Cream Bash (with Old Timers in line first of course!) (submitted by Scottie Myers)
One Birthday Party for Everyone
Plan a birthday party with games, cake and ice cream, singing, costumed characters, etc. However, instead of singing Happy Birthday to one person, sing it to everyone. Instead of having a full cake, everyone gets their own cupcake.
Parade
Whether you are decorating the staff's actual cars, golf carts, trailer floats, cardboard vehicles or everyone is just walking, a good parade can entertain all ages.
Party in the USA
This is similar to the International Festival, but instead of having games, food and music from different countries, celebrate the differences of each US state…or at least a handful of states.
Sky High
Hold contests and free play with anything that floats or flies, including kites, model rockets, paper airplanes, Frisbees, boomerangs, and balloons.
Space: The Final Frontier
Earth is sending our campers to explore new solar systems and planets. Now that everyone has returned, each group of ambassadors will share the information of the planet they "explored". Through food, music, games, language, mimicry and stories, groups will tell the rest of the "travelers" what they discovered. In other words, each camper group will create a planet that they have "visited" and decide on all this information. Then they will create a booth for the Out of This World Festival to share their findings with everyone who comes by their booth.
State or Province Celebration
Instead of celebrating the whole country, choose one state or province to celebrate.
Tom Sawyer Day
Have some 19th-century fun. Wear overalls and straw hats. Catch frogs (or just play leapfrog). Make mini rafts with twigs and place them in the creek. Do some woodcarving and candle dipping. Play games like dropping clothespins in a bottle, watermelon seed spitting for distance, and sack races. Play folk music.
Nature / Outdoor
Adopt a Tree
Have campers find a tree to "adopt". They can hug it, name it, draw it, take pictures with it and learn all about it. What type of tree is it? How old is it? What are its height and width? What is its purpose? Have campers make signs to place at the bottom of the tree telling others who pass by all about the tree. The sign can be made on wood or a large rock. If you have space, camper groups can also plant their very own tree.
Campfire – Skits and Songs, Vespers and/or Embers
Campfires are a staple of overnight camps, but they can also be done at day camps. Slowing things down for a meaningful experience (vespers and embers) is something to consider if you aren't already doing them.
Hayride and Cookout
There's nothing like a hayride on a trailer pulled by a tractor or a truck. Add some hot chocolate, s'mores and a story or two.
Story Hike
Take the camp on a hike. Start with the first part of the story. The story can be original or one that is well-known like Alice in Wonderland. Place signs and items along the way that fits with the story, brings it to life. Every so often, stop and tell the next part of the story. At the end of the hike, have a destination party. For example, if you used Alice and Wonderland as your story, you can end up at the Mad Hatter's Tea Party.
Thing-A-Ma-Bob
Using sticks and anything else found in nature, along with some other basic materials like string, groups will create a product. They will then come up with, and act out, a commercial to show off and promote their Thing-a-Ma-Bob.
Food
Cupcake Wars
Pre-make a couple of hundred cupcakes (depending on how many campers you have). Divide the campers by age. Give them cupcake decorating supplies, including sprinkles, icing, sugar, food dye to color grains of sugar and icing, crushed Oreos, cookie dough, assorted gummies, and more. Have groups create a display of 20-50 cupcakes for judging. (submitted by Daniel Bacharach)
Ice Cream Social
Offer a variety of ice cream flavors, cones and cups, lots of toppings, and maybe even additional dessert choices.
S'more Bake-Off
Have each group brainstorm s'mores recipes and decide on one at the beginning of the week. Have them turn in a supply list. On the evening of the event, assign them each a cooking space (kitchen or campfire circle) and a time limit to gather supplies, cook, present, and clean up. Have the groups present their recipe to the whole camp and the judges (senior staff).
We had s'mores pudding pies, s'mores candy apples, s'mores made to look like a campsite (complete with an Oreo toilet and pretzel stick/mini marshmallow plunger), s'mores pancakes, among others. The winning recipe earned an extra turn tubing on the ski boat the next day. (submitted by Erin Hollen)
The World of Willy Wonka
Campers attempt to earn a golden ticket, which they can buy a chocolate bar with, by participating in activities and challenges like the Mini Tootsie Roll Challenge, Chocolate Milk/Augustus Gloop Relay, Charlie's Newspaper Throwing Contest, Chocolate Coin Hunt, Bubble Blowing Contest, Jump the Chocolate River, Burping Contest, Finding Charlie, etc. (based on a submission by Mary Chamberlain)
Theme Meals
Mealtime can easily be turned into an event. Here are 50 theme meal ideas and another 25 more.
Top Chef
Food competitions like Top Chef, Chopped and other Food Network shows have been used as inspiration for many camp events.
Time Travel
Jurassic Camp
Dinosaurs never go out of fashion. You can have activities like dino egg hunts, digging for fossils, dino-themed carnival games and dino crafts. There are a lot of other dino activities you can do. Check Pinterest for more ideas.
Renaissance Faire
Rent lots of king and queen, jester and knight costumes. Hold a joust, a magic show with Merlin, build a castle (put a cardboard "front" on a building using refrigerator boxes) or make group castles using sugar cubes. Include activities from Robin Hood or Camelot. (submitted by Cricket Snearing)
Tortuga Hideaway
A pirate's hideout is the perfect place for all sorts of pirate games, sea shanties, treasure hunting, crafts and more.
Hunts
Counselor Hunt
Counselors hiding. Campers searching. A favorite style of hunt at camps across the globe.
Egg Hunt
Why wait for Easter? Add a few golden eggs for prizes and campers would be happy to search for eggs all week long.
Photo Hunt
This can either be a hunt where groups are given a list of things to take a picture of, or it can be a hunt to find places and objects from a set of photos.
Treasure Hunt
Instead of just gathering items (scavenger hunts), groups must solve clues and decipher maps to find a "treasure".
Themed Hunt
Any hunt can be a themed hunt. Searching for cutouts of elves, pots of gold and four-leaved shamrocks would be a St Patrick's hunt. Searching for plastic or stuffed animals could be a Zoo hunt, Jungle hunt, Forest hunt or Ocean hunt. You get the idea.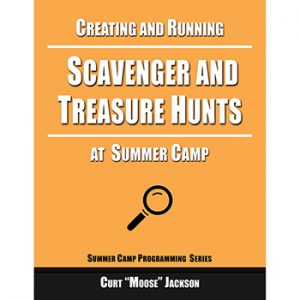 Special Guests
Animal Show
Bring in an animal handler. Kids love animals.
Magic Show
Campers also love magic. Make sure your guest magician is kid-friendly.
Music Concert
If you can't get Koo Koo Kanga Roo, find a local band that plays popular music. Alternatively, you can hire a DJ with an impressive light show.
Holidays
All Holiday Celebration
Throw all the holidays into a blender and mix. Haunted house, egg hunt, fireworks, gift exchange, turkey feast…it's all good. Here are some holiday ideas.
Haunted House
Turn one of your buildings into a haunted house. Just remember though, when a camper says, "Monster, be good!" you're not allowed to scare them.
Trick or Treat
Cabin to cabin trick or treating can be a blast. Everyone's in costume, right?
Other
Adventure League
Campers can join the Adventure League if they successfully get through this event with flying colors. Campers are taught outdoor living skills like hiking, survival, shelter building, fishing, camping, fire building and outdoor cooking. Pass the skills test and you become a league member (or at least get a cool button).
Camper Garage Sale
Here's a fun one for day camps. Campers can bring in toys, books and anything else they want to TRADE at the camp garage sale. Be sure to contact parents ahead of time so they can approve the items brought in by their children.
Give campers a chance to look around at everything and do some trading. Also, make sure that the campers know there are no takebacks; once an item is traded, they cannot have it back.
Casino / Games of Chance
There are plenty of non-gambling games that are perfect for this event. Slap Jack and Rock, Paper Scissors are just two examples. No prizes are awarded. This is just for fun.
Set it up like a casino with staff running each game at a different table. Free drinks (juice, water, etc.) are available.
Creation Stations
Set up stations for campers to rotate through to make different creations including pottery, painting, wearable art, clay, videos, photography, recycled art, writing prompts, etc.
Emergency Services
Work with the local fire department and police department to come in and speak with the campers, show off their vehicles and maybe douse everyone in foam from the fire truck. See if the local Army Reserve unit will come in, as well.
Full Moon Madness
Celebrate each full moon (once a month) with a Full Moon Madness event. Everyone gets to stay up late and have a bit of a sleep-in the next morning.
Divide the camp into age groups, and have them participate in ADA (After Dark Activities).
Activities may include glow in the dark capture the flag, flashlight tag, night hikes, late-night snacks and card games in inclement weather (our teen boys LOVED this), glow in the dark mini golf, glow in the dark 9 Square in the Air, etc. (submitted by Tink Rabey-Hall)
Hoedown
Take it from me, an hour to 90 minutes of line dancing to disco music will have all the campers and staff on their feet. Of course, you can do the traditional County music version as well.
Bonus points for getting a professional caller and teaching everyone to square dance. More bonus points for getting a folk band with a banjo player to come in and perform.
More Than a Movie
Want to show a movie but feel that's not what camp is for? Make it more than a movie by implementing activities every 20 minutes. These breaks can include challenges based on the film, trivia contests, discussions about the characters and their choices, acting out favorite scenes, etc. don't forget to have a snack bar complete with popcorn and other concession stand goodies.
Record Breakers
Run a "(Your Camp) Book of World Records Night". Around your main area of camp, set up many stations with different types of challenges. Allow campers to roam free and choose any challenge that they want. Each station keeps track of the winners (older boy, older girl, younger boy, younger girl, and counselor) and at the end of the night, everyone heads into the dining hall for the awards ceremony. (submitted by Camp Ben Frankel staff)
Talk Show
Get one of your more charismatic staff members and have them host a camp talk show. Interviews, challenges, audience participation, monologues, comedy sketches and music are all part of late night talk shows these days.
The Camp Museum
Groups are assigned their own room or some space in a large room. This is the museum. Groups then prepare their space by displaying items they can find that has meaning to them and is related to the camp (crafts, toys, buttons, awards, clothing, photos, drawings, etc.). They can also include a performance if they choose (dance, song, cheer, story, skit, etc.).
This can be for camp and staff only, or you can set up the museum for parents to experience.
Triple Dog Dare Day
This is a day to face your fears. Activities include high ropes, eating weird foods, solo night hikes, etc.
Trivia Contest
Grab some game buzzers, divide into teams, and ask trivia questions that span from pop culture to school subjects.
Ugliest Counselor
Camper groups decide which of their counselors will be participating in a Non-Beauty Contest. They are given about 40 minutes to prep their counselors. Supply make-up and clothing from the costume closet. Add in talent and question portions to the "pageant", if so desired.
Vehicular Awesomeness
Reach out to the community (business, agencies, parents) and ask for anyone with an interesting vehicle to come to camp for a few hours.
This is not for hot rods and show cars. This is for vehicles the average public doesn't usually get a close look at, like a big rig truck, ambulance, helicopter, fire truck, tank, police vehicles, construction vehicles, farming vehicles, military vehicles, limo, boats, etc.
What is your favorite event at camp? Do you plan on trying any of the events above?
---