Are you looking to put together a memorable week or event for the kids at your summer camp?
In this article, I cover the different areas of your event and/or theme that you should consider during your planning (i.e. length of the event, creating teams, game and activity suggestions, decorations, food and more).
As always, I would love your feedback and ideas in the comments.
How Long Should the Event Be?
Holding an Olympic event at camp all in one day is an option. After all, there are a lot of other activities for campers the rest of the week. Or perhaps you want to run a few competitions each day and extend the program throughout the week or session. Neither way is wrong. What works for one camp may not work for another. Just decide on your schedule before planning the rest of the program.

Should I Use Actual Countries for the Teams?
There are two ways to go about this. You can have teams represent actual countries or they can come up with a fictional country.
Why choose to go with fictional countries?
To avoid upsetting campers who really want to represent a specific country. It's like if you were to run a Harry Potter camp. Eighty percent of the campers will want to be in Gryffindor. Well, most kids in America want to be on team USA.
For the fun of it. Creating a country can be an enjoyable teambuilding activity that includes flag design, currency design, national anthem creation, clothing design, special customs and traditions, and more.
Why choose to use actual countries?
Limited time. Creating fictional countries can be time-consuming.
It's a great opportunity to introduce campers to other cultures. You could have binders with all kinds of information on specific countries that the counselors can share with the campers. Also, if you have international staff at your camp this is the perfect opportunity for them to share with the campers and other staff all about their home.
What's the Best Way to Create Teams?
There are a number of ways to create teams. Here is my preferred method to keep things fair and even.
Divide the campers into ages. You might also separate them by gender (as they do in the Olympics). However, as we move toward more gender-neutrality, dividing campers into girls and boys will be something many camps will be reconsidering, if they aren't doing so already.
Have a bag filled with slips of paper that either have a color on it, a team leader's name or a country written on it. The number of campers in a group must equal the number of slips in the bag. Each team should have the same number of slips in the bag as well. For example, if there are twelve 7-8 year olds and there are four teams, then the bag should have three slips of paper for each team, totaling twelve slips.
Allow campers to pair up with a buddy if they want. I sometimes make exceptions for three friends to be together but not four or more.
Line up the group. For example, the 7-8 year olds will make one line. In the front of the line will be all the campers who paired up. The lone wolves (single campers) will be in the back of the line.
Have the first camper reach into the bag and pull out a slip of paper. The team that slip represents is the team that camper (and their partner if they have one) is on. If they have a partner, pull out another slip of paper for that team.
Go through the rest of the line.
That's how I like to create teams. I allow the campers to choose a partner because I have had too many campers become upset when all of their friends end up on one team and they are alone on another. That's not a fun situation for anyone.
Many kids come to camp alone, so I like to play up how cool it is to be a "lone wolf". I also encourage my staff to look out for lone wolves so they can help facilitate making new friends.
Event Registration vs Game Rotation
Event Registration
This is when each camper signs up for a particular event or two.
Counselors of each group are given sign-up sheets for each activity (basketball free throw, javelin throw, etc.).
Each camper can choose two activities/games to compete in.
During the camp Olympics, there should be a schedule of activities. Campers will participate in the games they signed up for. If they are not competing, they can sheer on their teammates at one of the other games going on.
Side Note: I suggest you allow campers to sign up for whatever two games they want. If all the 9-10 year old campers from Sweden sign up for archery, that is fine. They may have more competitors at archery but that means they will have less at the other games. It all evens out.
A camper who loves archery but isn't able to compete because there are no spots left will not be happy. That could be the one thing they were looking forward to and now their camp experience has been diminished.
Game Rotation
This is where campers rotate through all the games and participate in each one.
Set-up 5 games for each time slot (ex. 9:30am-11am).
Divide all the campers, regardless of what teams they are on, into age groups (7-8, 9-10, 11-12, etc.).
Start each age group at a different game. When all the campers of that age group has finished competing in the game (shot put), the group moves to the next game (archery).
At the end of the time slot, all groups will have hopefully gone through each game area.
Game Rotations take some time good time management and are best for small camps (less than 100 campers).
Which way is right for your program? That's up to you and the size of your camp.
Point Systems and Medals
In a Color War program, you would be giving points to teams. But this is an Olympics program. Medals are part of that.
Of course, you can combine them. Each gold medal can be worth 300 points, silver worth 200 points and bronze worth 100 points.
You can also give medals/points for other things like:
The Cleanest Cabin of the Day
Team Flags
Trash Pick-Up
Best Decorated Cabin
Scoreboard
Place a dry erase board somewhere that everyone can see it throughout the day. That may be near the restrooms, in the dining hall, on a certain picnic table or in the office. Write the team countries along with either their total points or their medal standings (3 Gold, 2 Silver, 7 Bronze). If you're really ambitious and have a big board, you could write all the events and the standings with a tally for each team.
However you do it, make sure it's visible. This will cut down on all the campers' requests for the scores from their counselors and other staff.
Medals
Medals can be something you purchase online or something the staff make during staff training. If you want to make your own, there are plenty of craft tutorials online. There are also other things you can award campers instead of medals including buttons/pins, stickers, beads, tokens and paper awards.
Giving out medals/awards can either be a public showing or a private moment within the groups.
While individuals or groups will earn awards for winning competitions, many more campers may not. It would be more work, but I suggest you task your counselors with awarding every one of their campers for something they did that week/session. It could be for anything – keeping the cabin clean, being an awesome helper, showing the most enthusiasm, showing courage at the ropes course, the actor award for skit night, etc.
I'm not a fan of participation awards. I don't think everyone should get a trophy for just being on a team, but I like to see every kid go home with an award. Every camper does something amazing. It's up to your counselors to find what that is. Sure, they may not get the gold for coming in first during the sailing competition, but they might get the gold for being the best magician in their cabin or unit.
Opening and Closing Ceremonies
This is optional, but if you want to include opening and closing ceremonies here are some ideas.
Before you have your opening ceremony divide the campers into their teams. If they represent fictional countries have them make their flags. I get inexpensive material from the local fabric store. If they represent actual countries, I suggest you purchase 3'x5' flags of the countries. You can get them for under $10 (usually around $5) each on Amazon.
If you're using colors along with the countries, give the campers a colored bandana to wear (or at least a strip of cloth they can tie around their arm or head).
OPENING CEREMONY
Gather all the campers in one area (auditorium, campfire ring, dining hall, school gym). Have them sit with their teams.
Recognizing the Host Camp
At the beginning of the ceremony, someone should speak about the history of the camp. If there is a camp flag it should be raised. If the camp has its own song or there is a camp song that is a favorite, that should be sung. Basically, the whole program should start with recognizing the camp and its traditions, whatever that means to you.
Music
Start playing the "Olympic Fanfare and Theme" by John Williams. Either download it or play it straight from YouTube. Or you may want to get the Summon the Heroes CD.
Sale
Raising of the Olympic Flag
During the music, "raise" the Olympic flag. You can either raise it on an actual flagpole or just have a couple of staff climb ladders to pin it up on a wall.
You can purchase a 3'x5' Olympic flag on Amazon for less than $10, or you can take butcher paper and make one.
Torch
With the music still playing, a staff person, either dressed in running gear or a toga, comes in with the torch in hand. You can find fake torches on Amazon or make one using a paper towel roll and red and yellow tissue paper.
He or she then "lights" the main Olympic torch. For this, I would either use a fake stationary torch or a large candle. Of course, you can always go big and build an outdoor campfire structure, douse it with gasoline and then have the archery instructor shoot a flaming arrow at it. Up to you.
Parade of Nations
Have the captains of each team come in holding their country's flag and waving to the crowd. They can be wearing clothing of their country, togas or their team's color.
As each team comes in, continue playing Olympic music or play the country's national anthem (which you can find online as well).
Announcer(s)
During the ceremony, you could have a staff person or two announcing the whole thing. "And here comes the team from Canada. I'm so excited to see them make it to the Games this year. The team is headed up by Jack, Steve and Sonia. I've seen their athletes and I must say, I'm impressed."
Olympic Chairman
When the "parade" has finished, have the chairman (camp director or program director) come out to address the camp. He/She should talk about the importance of keeping things positive and enjoyable during this competition. How their effort, giving their best and striving for personal excellence, is what's important, not whether they win or lose. The purpose of the events is to have fun, to challenge oneself, to be a positive part of a team, to encourage the person next to you. Nobody there has been training for years to compete in these events. Everyone naturally has different skill sets and abilities. Therefore, we celebrate all those who take part and do their best, win or lose.
Olympic Oath
Then have everyone recite the Olympic Athlete's oath. "I promise that I/we will take part in these Olympic Games, respecting and abiding by the rules that govern them, in the true spirit of sportsmanship, for the glory of sport and for the honor of our teams."
The chairman then says, "Let the Games begin!"
CLOSING CEREMONY
Hold the closing ceremony in the same spot as the opening ceremony.
Recognizing the Host Camp
The closing ceremonies begin with lowering the camp flag (if there is one) and singing the camp's song or a camp song that is the most popular.
Parade of Flags / Parade of Athletes
Have one or two campers from each team walk the "parade route" with their team flag. This is the Parade of Flags. Then have three key campers and one staff from each team walk the route. This is the Parade of Athletes. During this portion, everyone walks together, not as individual teams. It's a blending of athletes to represent "one nation".
Olympic Chairman
The director or program director addresses the camp to say how proud he/she is of their efforts, sportsmanship and Olympic spirit. He/She can talk about some highlights of The Games.
If a lot of pictures had been taken during the events, and you are certain that all campers were photographed, I would put together a slideshow with some nice closing ceremony music.
Lowering of the Olympic Flag
Now lower the Olympic flag, or take it off the wall.
Torch
Extinguish the torch.
The Games have now concluded.
Competitions
Olympic Games (Camp Style)
When it comes to an Olympics program or theme you should incorporate Olympic events. No, I'm not saying that you should have kids throw actual javelins, but I am saying that Olympic events should be adapted for use at your camp.
I realize that this is camp and kids (and staff) like to play camp games and participate in crazy competitions. I also realize that not all kids are athletic. Therefore, I have included twists on classic camp games, non-athletic games and challenges and other competitions that you can use to even out your Olympic program.
With any distance competition, you'll need a way to measure that distance. I recommend something like an open reel measuring tape. You could also just use cones and mark the distances of each competitor. You may not have the exact distance, but it will be obvious who went the furthest.
RUNNING
It doesn't get much easier than this for an event. Choose a starting point and a finishing point and have the participants race. You can have different distances, or maybe you just want to keep it simple with one distance. I know of a camp that has their older campers compete in a 5k and their staff in a half marathon. Seems a bit extreme, but it's a tradition for them now.
SHOTPUT
Use a softball for this competition. Do not bother having participants push, or "put", the ball from their chest. Simply have them throw it since it is not as heavy as an actual "shot".
DISCUS
A good camp alternative to an actual discus is, of course, a Frisbee. The weight of a disc for disc golf would even be better as it is less likely to catch the wind and go up rather than forward.
JAVELIN
There are a couple of ways you can go with the javelin throw. You can use a javelin training aid like the TurboJav for a more realistic feel, or you can go with a foam javelin that looks similar to a pool noodle with a weighted nose and fins on the back.
As for the competition, you can either have the participants throw for distance or for accuracy. If you're going for accuracy, you'll need to set-up targets.
Turbojav 300 grams, Training Javelin
Buy one Turbojav. Weights 300 Gram. 28" Inches long. Colors may vary from picture. Easy to...
Our products are made of special medical grade Polyethylene body and that has super soft...
Foam Javelins (6-Pack)
Lightweight, 36" foam javelins are perfect for enhancing throwing skills and interest in...
Feature 3 fins to maximize their aerodynamics
PENTATHLON
The pentathlon of ancient Greece consists of five events: the long jump, javelin throwing, discus throwing, a short foot race and wrestling. In my version of a camp pentathlon, participants compete in…
A standing long jump
A javelin throw with a foam javelin
A discus throw (throwing a Frisbee as far as possible)
A short foot race
An arm-wrestling event
The modern-day pentathlon consists of these five events: fencing, swimming, horse jumping, and a combined running and shooting event. In my version of a modern-day pentathlon, participants compete in…
Fencing with boffer swords (soft swords)
Swimming
Jumping over short hurdles while pretending to ride a horse
A combined running and shooting small targets with a water gun event
BASKETBALL
Basketball is a very popular activity and works well with an Olympics program. You can hold a variety of basketball events.
5 on 5 Basketball Games
3 on 3 Basketball Games
H.O.R.S.E.
Around the World
Most Free Throws out of 10 shots
Most Baskets Made in 60 Seconds
SOCCER (FOOTBALL/FUTBOL)
You could run a typical soccer tournament, but let's look at competitions that won't require 11-player teams, a bunch of rules and a lot of time.
Penalty Shoot Out
Have either a staff person or a player from another team act as a goalie. Each team gets ten penalty shots from the penalty line (12 yards away from the goal). Each kick is performed by a different participant. The team with the most goals wins.
Target Shoot Out
Set up good-sized targets like cardboard boxes, trash cans and five-gallon water jugs. Participants get five shots to try and hit the different targets that all have a different point value depending on their size and distance from the shooting line.
Juggling
Participants are tasked with juggling the soccer ball for as long as they can without it hitting the ground. You don't have to use time as the metric. Instead, the winner can be decided by how many times the ball is hit while juggling.
Around the World
Line up 6-10 balls around the 18-yard box. Each participant sees how many goals they can score. The goalie (keeper) can be someone from another team or a staff person.
VOLLEYBALL
When it comes to volleyball there is doubles beach volleyball and indoor team volleyball. If you have the facilities, offer both as competitions.
ARCHERY
If your camp has archery, set-up some competitions for the campers that they may not normally do during the regular activity. There is nothing wrong with holding a competition using a traditional target, but this is camp, and adding a little flair can be just the thing to make the archery event memorable.
Allow each archer three arrows no matter what style of competition you choose. If you have the time, you can allow each archer to shoot five or six arrows, but three should be the minimum.
SWIMMING
If you have a pool at your camp, or access to one, consider a few swimming events. Don't expect campers to know how to effectively swim with a butterfly stroke or backstroke. Instead, stick with freestyle. Have participants race from one end of the pool to the other. You could also have them return.
If you want to shake things up a bit, you can hold some unique swimming races.
Swimmers must doggy paddle
Swimmers float on their backs and can only use their feet to get them across
Swimmers use kickboards
Swimmers dive to the bottom, grab a ring and place it at the opposite end. Then they swim back to the start.
Camp Games with an Olympics Twist
Yes, this is camp and not the actual Olympics. So, including camp games seems fair to me. However, since it is an Olympics program let's put some twists on these classic camp games.
CAPTURE THE FLAG
The Olympic spirit is alive and well. However, to keep others from stealing their spirit each team put all their team spirit into their own Spirit Stick. Of course, you'll need to have the teams create their own unique and creative Spirit Stick. So, while this game may usually be called Capture the Flag, it's been renamed to Capture the Spirit Stick.
COUNSELOR HUNT
A counselor hunt is where the counselors hide and the campers must find them. In this hunt the counselors all represent an athletic event. They also must carry something that has to do with their event. For example, a volleyball player would have a volleyball, an equestrian rider may have a stick horse, and an archer may have an arrow.
Camp Activities Turned into Competitions
Camps have a variety of activities for their campers. Take advantage of the activities your campers are already participating in for your Olympics program.
ROCK CLIMBING
If your camp has a rock climbing wall you can do a couple of different challenges. You'll want to make sure you have your best belayers ready.
Timed Climb
For this challenge, each participant is timed. All participants climb the same side/route. At the top it's best if you have something like a bell that the climber can ring.
Difficult Climb
Here you'll need to change the holds to make the climb more difficult. There are different holds from large, easy to grasp holds to small fingertip holds. The design of the route can make the climb more difficult as well. The winner is based on how high they got and what their time was. If it's really difficult you may not have many climbers make it to the top, but for those who do, you'll need to take time into consideration.
GOLF – MINIATURE AND DISC
Miniature golf set-ups, either permanent or moveable and disc golf courses are not unusual to see at camps. If your camp has one or both of these set-ups, consider adding them to your Olympic program either as full course games or as one-hole putting challenges.
I like the putting challenges because they are quicker and more versatile then a full course event. Simply set cones at different distances from the hole (mini golf) or basket (disc golf) for different ages. Then give participants 10 shots to get the ball in the hole or the disc in the basket.
Non-Athletic Competitions
It's no secret that humans are not created equal. Everyone is different, and that includes athletic ability. Some kids are just not athletic or have an interest in sports. As camp professionals we do not want to exclude any of the campers. Therefore, I wanted to include some non-athletic competitions.
CHESS
This competition will have to be tournament style. Pair up your participants and have them play each other. The winner moves on. Normal chess rules apply.
CHECKERS
For those kids that don't know how to play chess or don't feel they are proficient at it, they can play checkers. Again, run this tournament style.
CONNECT FOUR
Here's a favorite game of many kids. Connect Four is a perfect game to run a tournament with.
JIGSAW PUZZLES
Puzzles can be an easy competition to run. Don't use large 1000-piece jigsaw puzzles. Instead, use small 10-30 piece puzzles, or make your own wood puzzles.
EATING
Fans of the shows Survivor and/or Fear Factor will appreciate this one. Eating competitions come in many shapes and sizes. Here are some that you might want to consider. I tend to stay away from ones where you're eating food as fast as you can or stuffing as much food (Chubby Bunny) in your mouth as you can, to avoid choking incidents.
"Gross" Foods
Hot Wings (for camp counselors)
Guess the Flavor (Jelly Beans)
Root Beer Chug
Watermelon
CRAFTS
Even crafts can be a competition. During your regular arts and crafts time give campers the option to create something for the craft show. You could have a theme as well.
This is best done if your camp offers a makerspace, meaning that your crafts shack is full of craft supplies that campers can use to make whatever they want. That's the simple explanation of a makerspace. You can find more information by Googling "Camp Makerspace".
Place all the entries on tables where they can be judged by a panel of staff. Let all the campers get a look at them at some point as well. The judging can be done at any time and the campers do not need to be present.
Let's Decorate?
OLYMPIC RINGS
Anything that is round and comes in multiple colors can be used to make Olympic rings. This includes paper plates, Frisbees, hula hoops, balloons, circles cut out of poster board, etc. These can be placed everywhere around camp to remind everyone that it is Olympics week.
FLAGS
I mentioned earlier that you can find 3'x5' flags on Amazon. This goes for country flags as well as Olympic flags. You can also purchase hanging banners of flag pennants and flags on toothpicks to place in food. While these are inexpensive items to buy, I feel like any flag type item can be made with paper, markers (or printer), tape and string.
POSTERS
There are a lot of posters of Olympic athletes that you can purchase and hang up around camp, or you can have staff recreate those photos and make posters of your own.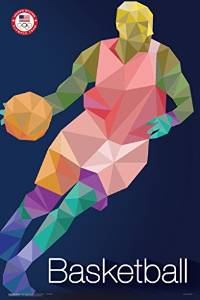 GOSSAMER
Gossamer is a great material for decorating. Using the Olympic colors or the colors of the teams (if they are different), hang up gossamer around the main hall or dining area.
Who's Hungry?
Even food can be part of your Olympic theme. You can offer food choices from different countries.
If you run an overnight camp you could also have each dinner of the week represent a color of an Olympic Ring. Here are some examples to get you thinking.
Blue
Blueberry Pancakes (I love pancakes for dinner)
Nachos using blue tortilla chips
Yellow
Mac n Cheese
Spaghetti Squash
Black
Black Bean Burritos
Soup and Charcoal Crackers
Green
Green Bean Casserole
Spinach Wraps
Red
SNACK IDEAS
There are a lot of Olympic themed snacks that can be found online, especially on Pinterest. Here are three of my favorites.
Cheetos Torches
Ice cream cones filled with Cheetos
Go for the "Gold" Fish Crackers
Just your everyday Goldfish crackers.
Gold Medal Cookies
Lay two strips of Fruit by the Foot on a plate in a V shape. At the bottom of the V place a cookie. Now you have your "medal". You can use any yellow-colored cookie.
Crafts
And finally, there are a lot of Olympic craft ideas you can find online. Again, Pinterest is where you'll want to search for those.
___
That should be enough to get you started with your Olympic Games planning. If you would like more ideas, including sample schedules and what other camps do for their Olympics, get a copy of my downloadable PDF ebook where I expand on the ideas in this article.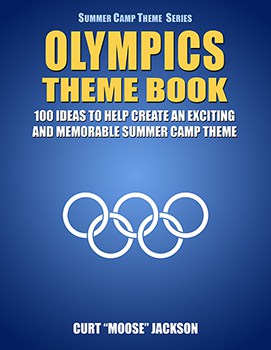 Share your ideas in the comments below.
---