I suppose I should have titled this 10 Crafts Campers and Parents (Probably) Won't Throw Away The First Chance They Get, but that is way too long for the title of an article.
As most of us know, so many of the crafts kids do at camp or after school just end up in the bin when they leave. And for good reason. A good arts and crafts person is hard to find and it can be an expensive program if you invest in quality supplies. That's why so many crafts are cheesy little projects that nobody ends up keeping.
The good news is that it doesn't have to be like that. Here are 10 crafts that are worthy of your arts and crafts program, won't break your budget and have a good chance of avoiding the trash bin (at least for a little while anyway).

STRING ART
String art has been gaining in popularity recently. I remember doing it as a kid myself. You can use nails and a wood block or you can use cardboard. Below are links to two tutorials, but you can find all sorts of ideas on Pinterest.
Star Weaving from RamadanJoy.com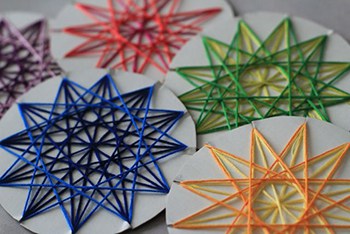 Heart Shaped String Art on Wood from RealityDayDream.com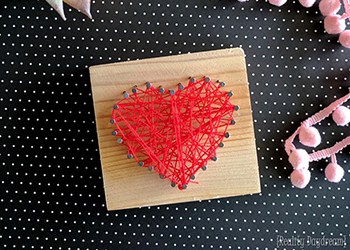 Sale
FRIENDSHIP BRACELETS
This is an old camp standby, and a craft that can stay on a wrist for years. There are lots of books and tutorials on the internet for the various styles you can make. Here is a fun video that covers 5 of them.
TANGLE-FREE HEADPHONES
Have your teens and pre-teens bring in their headphones. Grab that string from the friendship bracelet supplies and embroider the headphones. No more tangles.
Make Tangle-Free Headphones from Society19.com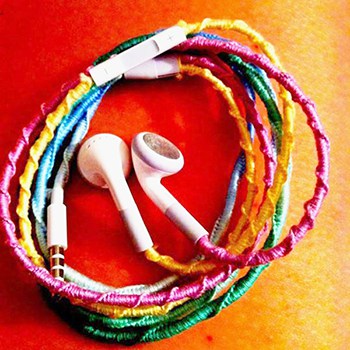 CLOTHESPIN AIRPLANES
There are so many neat crafts you can do with clothespins. Here is one that is simple, yet it's something that I can see sitting on a child's dresser. Click here for some more ideas using clothespins.
Clothespin Airplanes from CreateCraftLove.com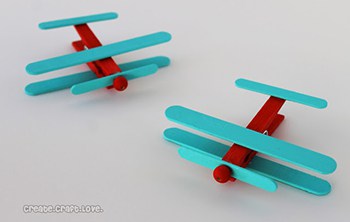 LANYARDS/BOONDOGGLES
Lanyards are a staple of summer camp. Older campers really enjoy making these throughout their time at camp. There are a ton of tutorials online. I have friends that still have the ones they made at camp as a kid.
MARBLE MAGNETS
These are fantastic magnets that can be placed on the refrigerator or other metal surfaces at home. You can either cut out pictures from magazines, cut out designs from craft paper, cut out images from comic books, or you could even use glitter.
DIY Glitter Gems and Magnets from ColorMadeHappy.com
Marble Magnets! from TheFrugalGirls.com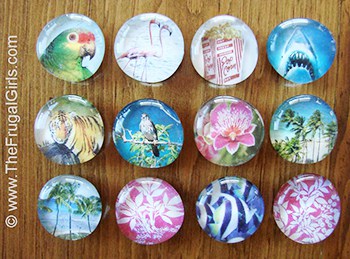 BUTTONS
I am a huge fan of button making. I wrote all about it here. You can have the campers draw their own picture, have templates they color, or they can choose pictures from magazines that you cut into a circle. The picture below is of some fun ones I found on Etsy.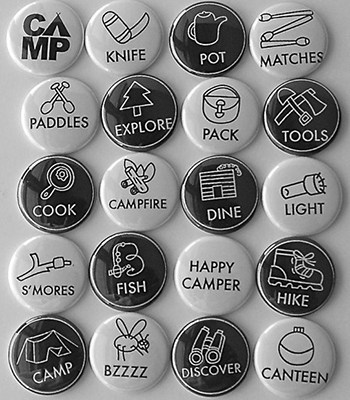 TIE DYE
Another classic camp craft/activity is the tie dye. Whether you tie dye shirts, socks, bandanas, pillow cases or something else, the outcome is something that will be worn or used for years to come.
BRAIDED YARN DOLLS
Do you have yarn and a pair of scissors? Then you have a craft. Braided yarn dolls are easy and do not require much in the way of supplies.
Braided Yarn Dolls from TheCraftTrain.com
MASON JAR AQUARIUM
There are so many cool crafts you can do with mason jars. Here's one that is really neat.
MasonJar Aquarium from HelloWonderful.co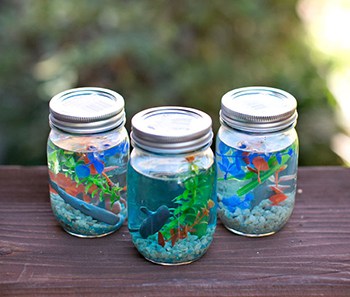 ---