There are a number of activities that are offered by summer camps. Many of the activities that camps offer are best led by staff that are properly trained, even certified. Examples include archery, aquatics, horseback riding, team-building, rock-climbing and high ropes. Then there are the activities that need to be led by staff that have specific experience like mountain biking, martial arts, dance, slack-lining, etc.
It's great to be able to offer the activities above, but it also puts you, the program director, in a position to hire experienced staff and/or train/certify inexperienced staff.
Occasionally, we hire staff with a passion for a specific activity, an activity we might not have offered previously. Examples of this might include juggling, parkour, photography, etc. The problem is that it's difficult to offer the same program the following summer if that particular staff member doesn't return.
Here are 10 activities that anyone can lead. While some require clear instructions via a step-by-step notebook, and others require some specific equipment, all of the following activities can be run by nearly any one of your staff.
1. Remote-Controlled Cars/Boats/Helicopters
By setting up a dirt track with some jumps and obstacles and getting a few off-road remote-controlled cars you can easily add an exciting activity to your camp program. Operating an R/C car is extremely easy and fun.
You can also get some cool boats if you have a body of water to run them on. While many of us have played with some type of R/C car not many have operated a boat.
Or how about setting up a couple of cardboard buildings to land small helicopters on? Have the campers create some buildings, with a helipad, of course, and then have them attempt to land the chopper on top of the building.
2. Scavenger Hunts
Kids love hunts! Why do you think Easter egg hunts have stood the test of time? Whether your staff hide objects like stuffed animals, or they give campers a list of items to find, like natural objects (smooth stone, red leaf, etc.) your campers will have fun. Make it a competition if you'd like, to spice things up.
Check out my ebook on hunts.
3. Thing-a-ma-bob
Divide your campers into groups of 2-4. Give each group some basic building materials (twine, a bit of duct tape, glue, or nothing at all) and have them find objects in nature (sticks, leaves, rocks, etc.). Don't have sticks and leaves at your camp? Then give them a bag of odd items. Tell the groups they have to create a Thing-a-ma-bob. It can be anything they want. After they have created their "product" they must design a 15-30 second commercial for their new product. Each group shows the others their creation and acts out their commercial.
4. Art in Nature
Divide the group into pairs, and have them create works of art using natural elements (sticks, leaves, grass, stones, dirt, etc.). When they are finished, go around with the whole group and let each pair show-off their creations.
For additional details click here.
5. Board Games
With today's high-tech gaming, the board games are going the way of the Dodo bird. Some families still do game nights (those families rock!), but beyond Connect Four and Candy Land, many kids don't know the fun that awaits a group of friends that play board/party games.
Ask parents and staff for donations and put together a collection. During the activity, have multiple tabletop games out. The leader can either start a game that would include everyone (team Pictionary, team Cranium, etc.) or introduce the campers to multiple board games and let them play their favorites.
6. Fun with Food
While cooking isn't an activity anyone could lead (like me, for example), creating silly snacks is. Taking food items, food coloring, toothpicks, icing and more, and creating fun and silly faces or creatures can be very entertaining. the best part is eating them afterward.
For ideas on silly snacks click here to view the neat Pinterest page I found.
7. Making Ice Cream
Ever make ice cream at camp using milk, vanilla extract, sugar, ice and rock salt? This is an activity that takes prep and time, but if done correctly campers really seem to enjoy it. The hardest part I have found doing this activity is keeping the rock salt from getting into the ice cream.
For directions on how to do this activity click here, or you can click here for a different site.
8. Magic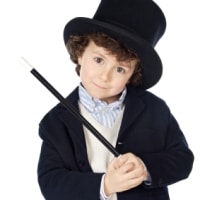 Magic tricks can be quite easy to learn and teach. There are a number of videos on YouTube and books at the library that will show your activity leader how to learn and perform easy magic tricks. Kids are awed by illusions, and as soon as they see a trick they want to know how it was done and learn it so they can show their family and friends.
Check online for "easy magic tricks" or "magic tricks for kids" and you'll find videos, books and instructions for plenty of easy to do illusions. Check your local library as well. Personally I prefer videos, and there are some good DVDs out there as well.
9. Bingo
Bingo is a hit with all ages. The opportunity to win prizes (no matter how small or cheap) is exciting. Add in a theme, like Disco, and you have created a winning activity choice. Find all kinds of small prizes at Oriental Trading.
For more on playing Bingo at camp click here.
10. Create a Game
Years ago I watched an episode of Endurance on Discovery Kids and they had a challenge where the teens were given a variety of gear and equipment (balls of different sizes, wood planks, flags, buckets, etc.) and had to come up with their own game, with their own rules. they had to use all the equipment and the winning team was safe from elimination.
By offering this activity your older campers will have to be creative and work as a team. Who knows, maybe they'll come up with an awesome game that will become your next camp sensation.